Forward, backward, left rotation, right rotation, in situ rotation, left lateral movement, right lateral movement, 45° oblique up and down lateral movement, four-wheel-drive shock absorption, turret up/down/360°

Four-wheel drive power (4WD), shock absorber, and 9cm size low noise strong ground grip upgrades universal wheels can be used on all types of terrain, such as grass, gravel, and dirt roads, for a strong climbing performance advantage.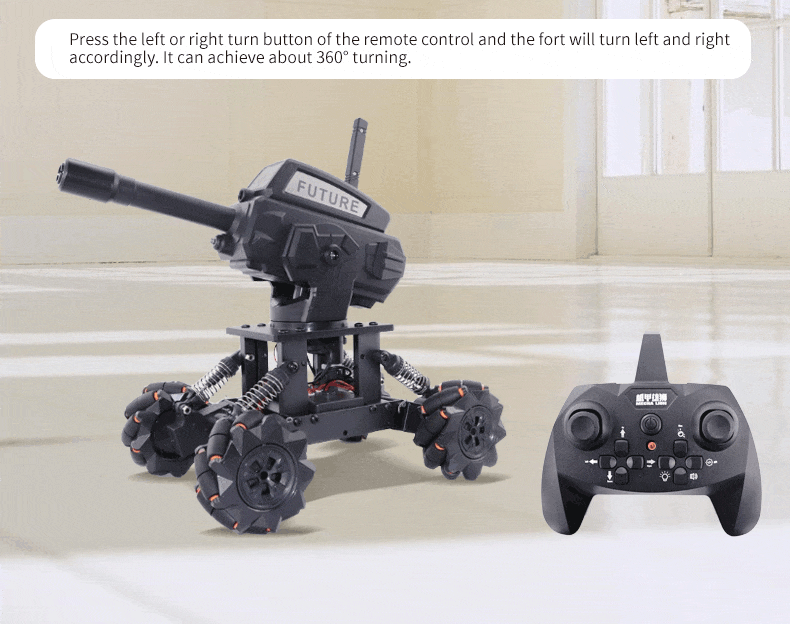 Mecha War Cannon's appearance looks cool and attractive that can attract your children's attention. Alloy frame, adjustable suspensions, mecanum wheels, and omnidirectional movement provides better control performance. With 7 motors,14 channels remote control to achieve complete control. This is a toy and an entry-level mechanical engineering machine.

Press the programming button of the remote control, do custom operations and press the programming button of the remote control again, the remote control car repeats the recorded operation which can stimulate children's primary programming thinking and innovation ability.

DIY assembly can effectively exercise children's concentrations and observation. 108 pieces of parts are required to be assembled and formed. It's a fun puzzle toy and it's conducive to the interaction between parents and children.