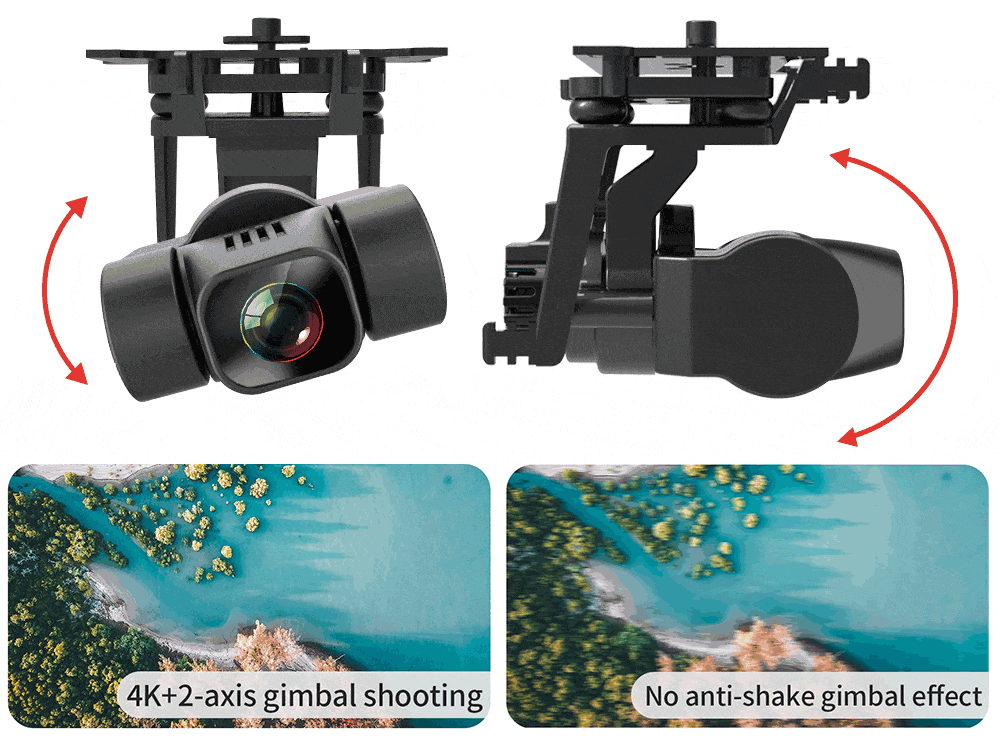 Stable Enough To Move With Your Heart
A 2-axis motorized gimbal provides superior camera stability and ensures clear, Ultra-smooth footage


4K Ultra HD image (4096×3072p) with stunning clarity and deep contrast, Built in Sony Image Sensor, 110° adjustable lens capturing a winder and clear view; 5 times zoom gives you a closer look at a distance to get more creative shots.
Brushless Motor x 7 Level Windresistant
Brushless motor with aviation propellers for high aerodynamic efficiency, which is more quiet and longevous than brushed motor.


Drone has a Precision GPS System on-board which allows you to TRACK & RECORD your flight! A Map shows Distance & Speed of the drone as well as its exact Latitude & Longitudinal location all on your screen! RETURN TO HOME (RTH) works seamlessly with 1 press of a button your drone comes back to it's exact take-off location. NEVER WORRY about Low Battery or Loss of Signal-- automatically RETURNS HOME keeping your quadcopter safe from harm!
*Important-Like all GPS drones, you must ensure you're in GPS Mode before take-off (Mode 2)
Smooth 5GHz FPV Transmission
Even fly as far as 1KM, you are still able to enjoy the stabilized and clear smooth real-time view transmission by the drone.


Drone combines a powerful camera with intelligent shooting modes for stunning results. Creative aerial photography has never been this easy.


28Mins Long Flight Time Drone
The large-capacity lithium battery can last up to 28 minutes, modular design ensures its safety and durability, let you to enjoy the fun of flying.


Accurately realize the hover position of height and position and realize Indoor optical flow mode .Outdoor GPS mode wind resistance and aerial stability.

Filter Special Effects MV Production
After clicking the MV button on the mobilephone operation page,you can enter the MV interface.You can add background music and specia effects to the captured video,and instantly share it with your friends.